Premium Gift Box, 3 Months
Our premium boxes are our original mission boxes. These will always be domestic wines, supporting small production wineries that.
What's in the box?

2 bottles of wine, 1 bag of dog treats (or non-consumable product depending on the month), 1 dog chew/bone, 1 dog cookie, and the occasional freebie or extra goodie.
Details

Premium wines will retail between $25-$50 each. Those looking for 3-4 monthly dog goodies. Retail savings of 25-32%.
Giving Back

A percentage of all Wags & Wine proceeds go to support a dog rescue or shelters.
Note: We strive to choose suppliers with no additives or chemicals, and who have organic practices and/or certified sustainable.
Cancel Anytime
Pause, cancel, or skip anytime!
No Surprises
We'll remind you before each renewal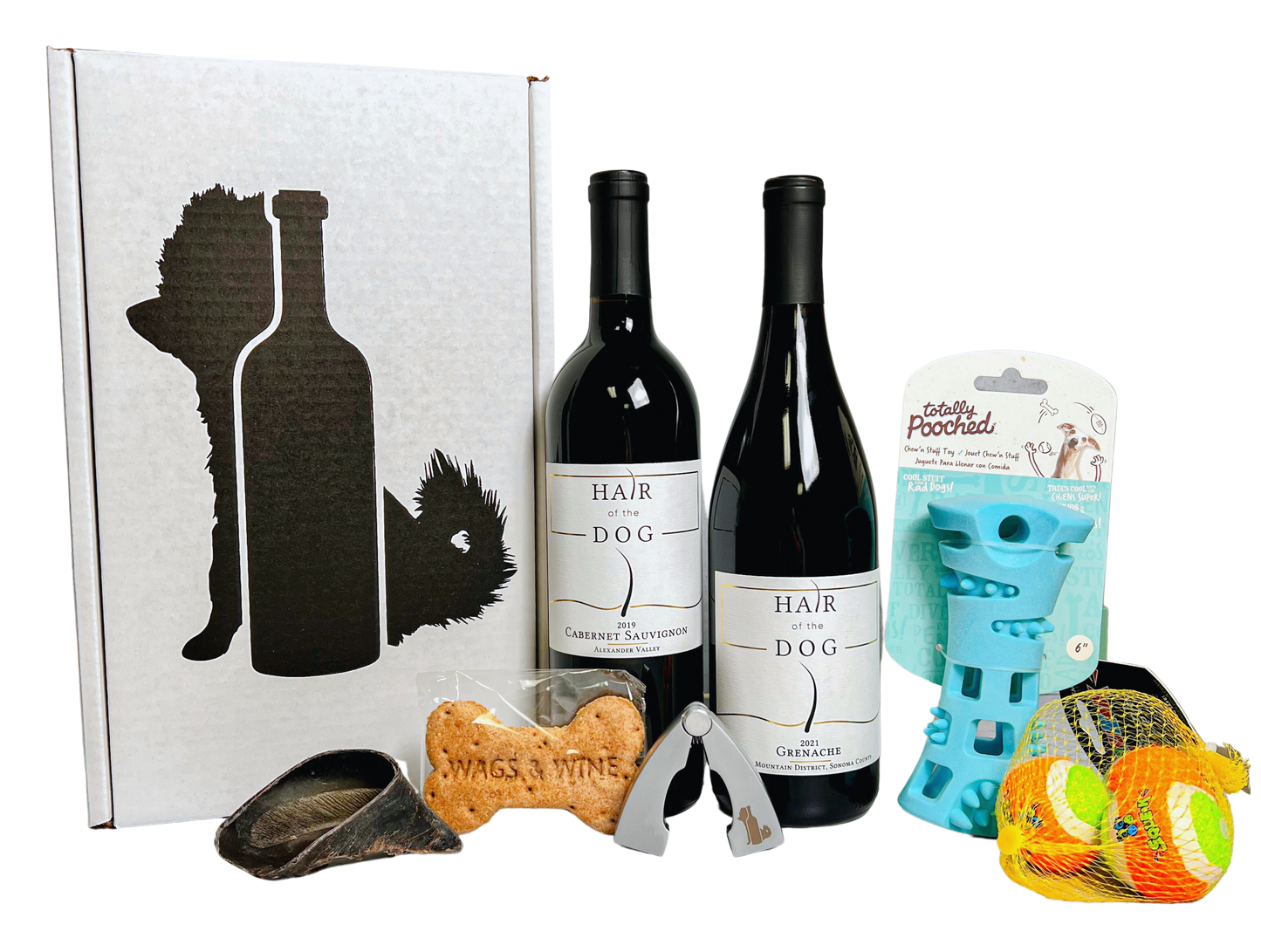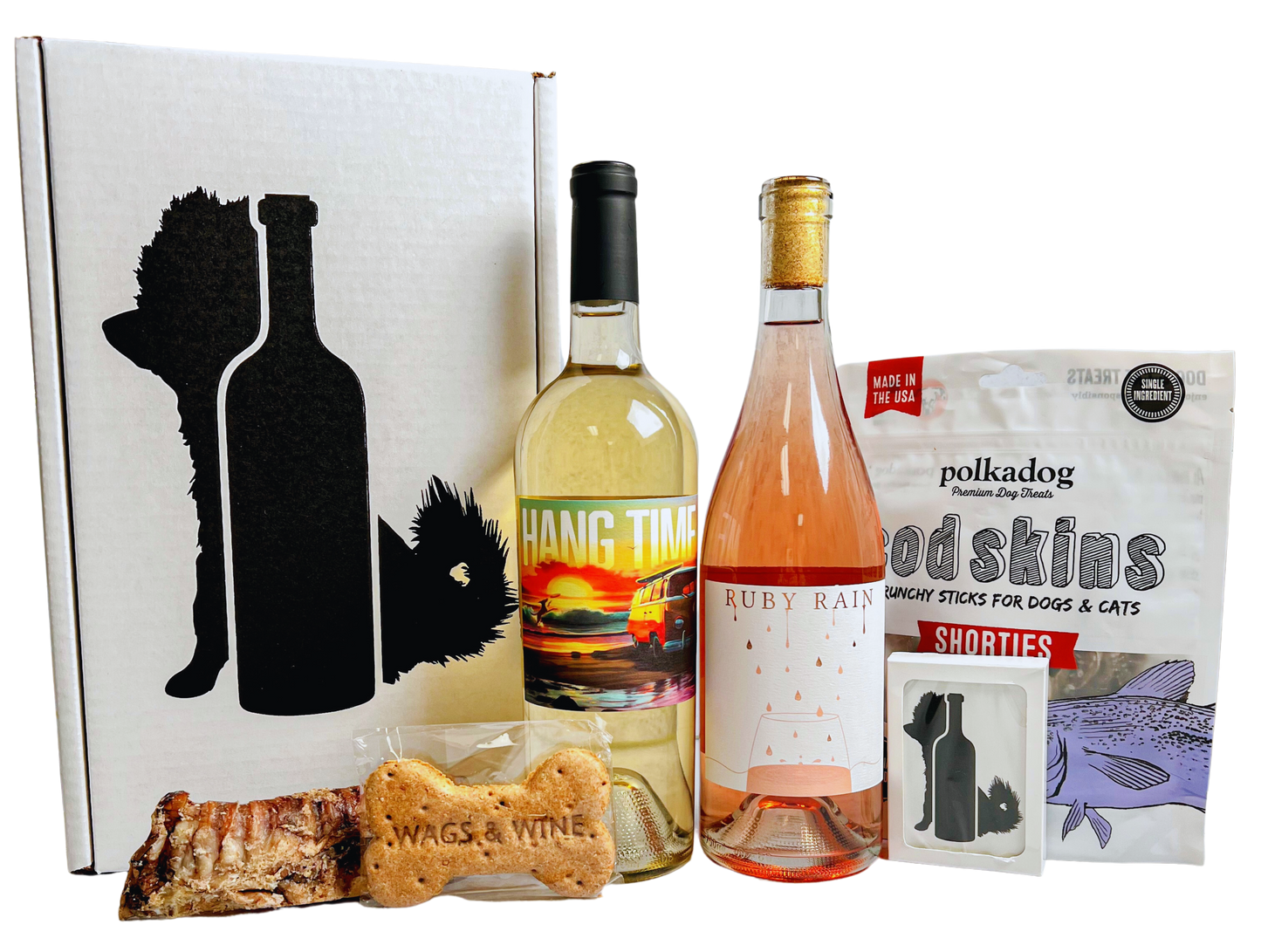 No surprises, we'll remind you before each renewal
No surprises, we'll remind you before each renewal
Frequently asked questions
Can I change my billing date?

At this time, we cannot change the billing. All subscriptions have a billing date of the 1st of the month, and all orders will be shipped either the first or second Monday of the month, depending on when we receive the goods and get the boxes packed.
Why do you charge for shipping?

We know paying for shipping sucks, but wine is HEAVY, and costs much more to ship than your average box. While we could have hidden the cost of shipping in the price of the box, like many companies do with their products, and offer free shipping – we didn't think the value of the box was accurately portrayed. We are doing our best to get shipping costs down, so please bear with us while we navigate this. We hope to offer lower shipping costs as we continue to grow! Depending on your location, we offer UPS Flat Rate Ground of either $10, $12, $15 or $20, and 25% off 2 day and 3 day. Additionally, by law, wine must be purchased, and signed for at the time of delivery, by a person at least 21 years of age.
What is UPS My Choice®?

UPS My Choice® is FREE and gives you the ability manage all of your deliveries more easily. If you sign up for UPS My Choice® with the same email and address as your Wags & Wine shipping address, you will receive live updates on your package and when it will be delivered, sometimes within a 2 hour estimated window!
What wines will I receive?

Wags & Wine will be curating new wines every month and adding them to our Cellar. With our original subscription model, we choose the wines for you each month. We feel that being surprised with great wine is half the fun! If there is something you are absolutely opposed to receiving, please put it in the "notes" box upon checkout and we will do our best to accommodate. If choosing your own wines is a must for you, please help yourself to building your own box!
Choosing a selection results in a full page refresh.
Classic v. Premium Box
Dog chew or bone (*smaller in size/qty)
Extra dog or human goodie (*occasional)
Rosé Wine Option (*only if building your own box)
Dog chew or bone (*smaller in size/qty)
Extra dog or human goodie (*occasional)
Rosé Wine Option (*only if building your own box)