Our Philosophy
In an time where AI and algorithms are shaping wine preferences more and more, we prefer to maintain the human connection of wine selection. The wines we choose to offer are based on all aspects of the human preference, as well as the personal relationships we have built. Who would you like to share your wine with? Where are you enjoying your glass? A short online quiz cannot determine this alone. We happily celebrate wines for their quality, purity, and individuality.
At Wags & Wine, we're here to raise the bar on those ordinary wine clubs, and bridge the subscription box gap for wine loving dog owners.
The Wines: You can expect mostly boutique and small producers, many with organic practices, a lot of which you might only find from the winery themselves. As these small vintners don't typically produce more than a few hundred cases of each wine we procure, once they are gone they are likely gone for good. Don't worry, we are constantly adding to our curated assortment to bring you a unique cellar of wines from different regions, varietals and styles.
The Dogs: When it comes to dog treats and products, you've got a lot of options. Some offer great taste, some offer nutrition, some offer health benefits. We strive to offer all three offering limited ingredient products you can feel good about with and no hidden nasties.
1

You Select

Pick your box and how often to enjoy it! Choose between monthly, every other month, and quarterly subscriptions.

2

We curate

We focus on finding unique, hidden gems from a variety of small vineyards and styles from West Coast to all over the world including Australia, Italy, Spain, France, South America & South Africa.

3

Slobber. Sip. Snuggle

That's it! Waiting is the hardest part. Don't forget to tag us in photos of you and your dog enjoying your box! *Re-posts = free stuff*
OUR QUALITY PROMISE
Quality is never an accident. It is always the result of intelligent effort. We spend most of our time and energy on product curation and achieving high regard. Every single detail from design to varietal to texture is thought through with obsessive attention. If our product doesn't bring you joy, we'll make it right.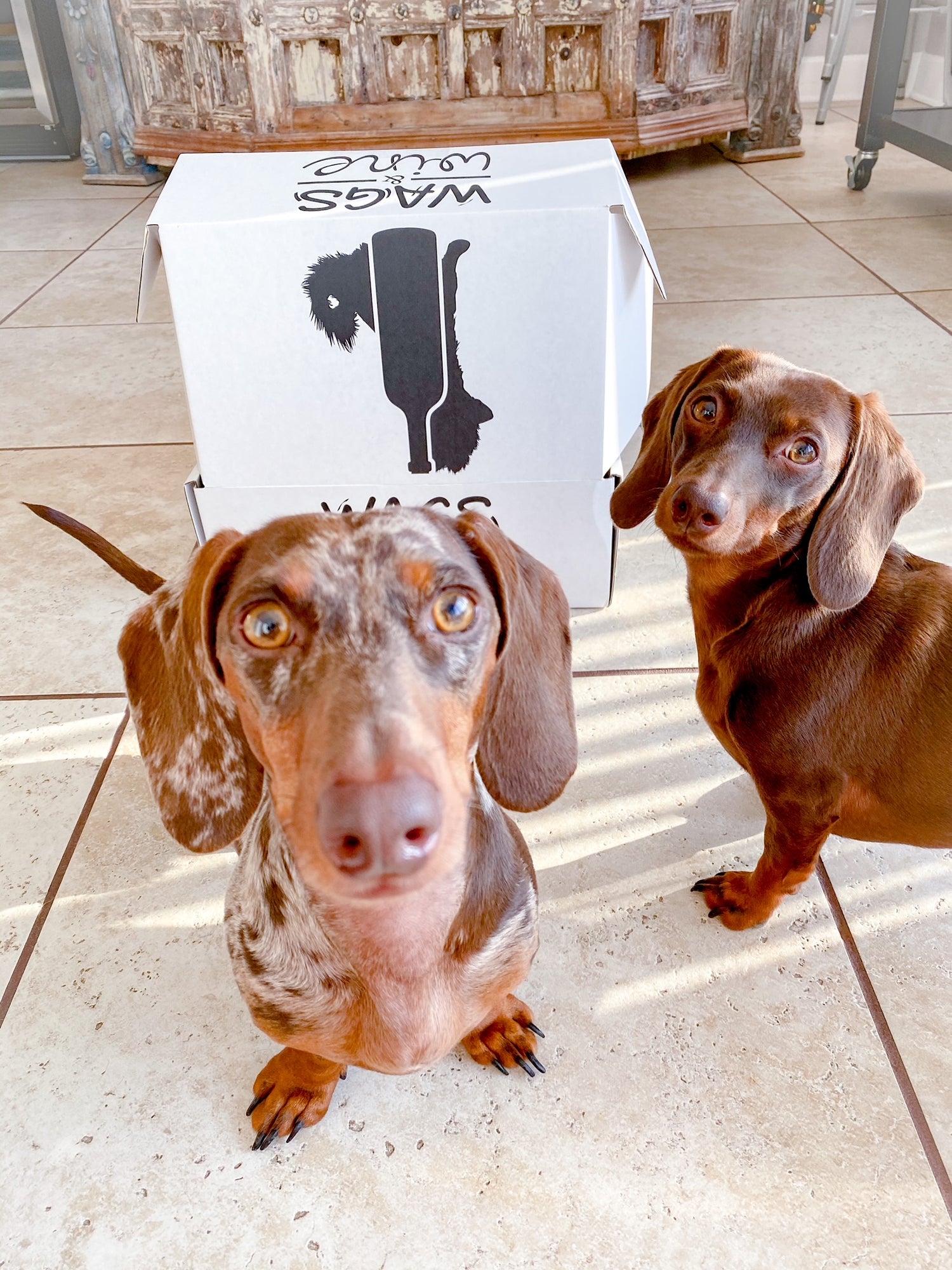 We don't consider ourselves a wine club. We are the first and only unique wine subscription box for both you and your dog. We believe in making wine fun and non-intimidating, supporting small producers, good taste, and spending time enjoying the things you love.
We are devoted to delivering quality products for both human and dog, by vigorously researching and hand selecting all wine and dog products for our boxes. We have tasted and curated products we believe will suit a variety of palates, for both of you!
Pause, Skip or Cancel any time

No surprises, we'll remind you before each renewal
Pause, Skip or Cancel any time

No surprises, we'll remind you before each renewal
Less Processed

Limited, only thoughtful, Ingredients
Classic boxes v. Premium boxes
Dog chew or bone (*smaller size and quantity)
Extra dog or human goodie (*occasional)
Rosé Wine Option (*only if building your own box)
Dog chew or bone (*smaller size and quantity)
Extra dog or human goodie (*occasional)
Rosé Wine Option (*only if building your own box)